Pick something up and begin your journey.
Get Curious.
How many ways can you flip, fly, and play?
Kinetic Play Everyday
Push your edge or flow with friends.
Flop For Five
Challenge yourself to pick up and play for 5 minutes a day.
Testimonials
We are five graduate students living in Brooklyn and we have loved trying flop tricks. They've been such an unexpected source of joy for us to play together.




Alana
A perfect replacement to old myachis. These are a bit heavier, grippier, more durable, and have a unique broken in floppy feel which many may enjoy.

Shawn, FL USA
My 12 year old son absolutely LOVES the Flop Ball I brought home from our conference. He plays with that ALL the time! He recently found your instagram sites, so I find him constantly watching the videos, trying to mimic Paul :) So, as a Mom, "thank you" for a fun way to play that isn't electronic and encourages play even when you make a mistake - keep trying!

Kristy LaVella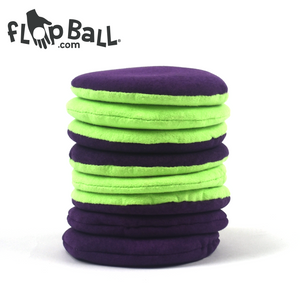 Stackers 8-Pack
Flop Ball Stackers are made for stack flipping. 25% lighter means you can hold more on the back of your outstretched arm and for longer.
Stackers come in green and purple packs. Each 8-pack includes:
2 each of green/green, green/purple, purple/purple, and purple/green.
Be the first to know
Limited edition announcements and promotions.